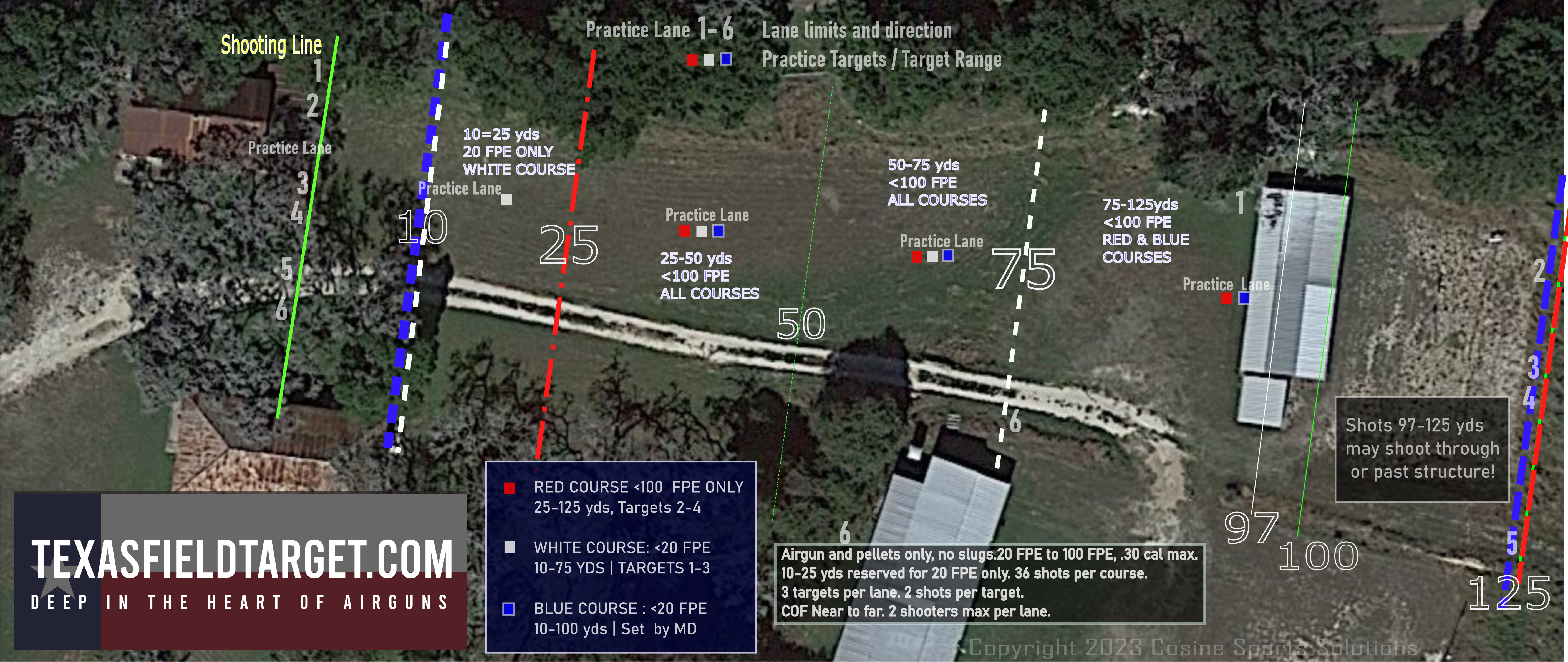 Saturday September 23rd- 9am -9pm. Members Range and Texas Field Target Courses open!
Texas Field Target – September 2023
Many apologies for the scheduling change this month. The 22lr shooters at our home club ( BSC) are having an annual match. Since TFT members are promised a full day of shooting, the 23rd is our Saturday.
New and improved! Shoot yer AAFTA rig Texas Field Target style!
Saturday September 23rd  
9am – 9pm 
Texas Field Target's NEW 20/100 FPE Course will be open for members. Stretch out your AAFTA rifles and 20fpe pistols 10-75 yds OR shoot 100 FPE to 125 yds on the same course. Or both! 
But let me explain a little, because its not a match per se…its a members only course and range, open from 9 am to 9 pm. Each month an entire day at the oldest operating shooting club in the USA, The Boerne Shooting Club, is reserved for Texas Field Target's members. Airgun only, no other shooters, no other range open, just a private Texas Field Target course and practice range for members featuring the best field targets made. No start times, no hourly fees, no reservations, no pressure, Just show up when you want to and shoot, tune, sight in and dope your airguns from 20 FPE to 100 FE and up to .30 caliber. ( pellets only). Practice for your next podium run, or start a rivalry match between members. From 9 am to 9 pm, TFT's Red, White and Blue courses and practice lanes will be open.
 Palmyra PA shoots a similar 'loop' stylel and lets its members cycle through the course, not unlike golf. And that happens to be exactly what and how Texas Field Target wanted to provide for its members, a private 'airgun field target' country club of sorts… Seeing they were doing it and confirmed our thinking, I have to give Palmyra the credit for the idea. I think one club in PA may have an S&S Target donated to them soon! Hershey Kiss Target maybe? 
The Texas Field Target course will have 6 lanes total with 4 targets on each lane. The first set of targets in each lane are between 10 and 25 yards and are to be used only with 20 FPE rifles and pistols. The 20 FPE course will shoot targets 1-3 from 10-75 yds.. The 100 FPE course will shoot targets 2-4 only, from 25-125 yds. Any rifle or pistol over 20 FPE must shoot the 100 FPE course only. No exceptions, If you feel the need to shoot a >20 FPE airgun closer than 25 yds, hay bales and paper targets will be on the sight-in lane. 
Each course is 36 shots, 2 shots per target. Shooters may "loop" as many times as they like. Members only pay $10 for all day shooting and funny looks are free.
100 FPE "RED" Course : Max .30 cal, 100 FPE Pellet only. Target #'s 2-4 ONLY. 32x max recommended scope magnification. 
20 FPE "WHITE" Course: Max 20 FPE Pellet only. Target #'s 1-3 Max Suggested scope magnification 22x
( targets for 20FPE only will be clearly marked) 
20 FPE "BLUE" Course: Targets 2-4, 20 FPE Max. Surely you can't be serious? I am serious.. And please don't call me Shirley.
Texas Field Target suggests all shooters try both clicking and holdover methods. Slings are also encouraged.
 Unattached bipods and sticks, seats and bumbags, rangefinders and slings ok.
All distances will be given. KZ sizes will range from ½"-2 ½" for the 20 FPE course and ¾"-3" for the 20/100 FPE Course. 
While not timed, the recommended pace of shooting is 5-6 min per lane, per shooter.
No more than 2 shooters per lane please. Sight in lane is loosely timed at 10 min blocks if shooters are waiting. There will be two spaces for sight in and a chronograph will be available for use. Windflags will be on various points downrange. 
Shooters must only shoot at designated targets or paper targets on the sight in lane. No other range will be open on the property while the Texas Field Target course is open. Once per hour a 10 min cold line will occur for MD duties, painting targets, etc. Sight in targets may be changed at this time.
All lanes will be under cover. Water, soft drinks and snacks will be available. While Texas Field Target is sponsored by SA Scuba Shack, our graciously provided air is not unlimited and it is suggested shooters bring their own tanks. Pellets only, no slugs and 100 FPE maximum. No vehicles allowed past the shooting line.
We are also starting a FUN-d raising and ongoing contest! Lupe, who kindly donated a scoring plug to the Boerne Field Target Club, told me of a once popular side competition using red ryders and suggested I bring it back. That got me thinking about the two new red ryders that came this past Christmas, and with that, The SAFD Red Ryder Sidewinder Shoot and will be at ALL airgun matches in Boerne for the remainder of the year! While a proper charity shoot is still being planned, we wanted to show our commitment to the San Antonio Fire Department early! Cost is $2 per target. Shooters will have 10 shots with a Red Ryder at 15 feet. All shots to be taken off hand. Enter your best target to win a personalized 125 FPE S&S Custom Target donated by Team TexAz!! Best score entered before December 31st will win! ALL proceeds will be donated to the San Antonio Fire Department!
Huge thanks to all the members, friends and sponsors. S&S Custom Targets, Tenacious Airguns, SA Scuba Shack, JD Custom Designs, The Boenre Shooting Club, Team TexAz, the folks running FT at PR&GC, Airgun Nation, Mission Ridge and many more on the way! GREAT things are happening behind the scenes, lots of folks coming together! Y'all gonna be pretty excited to see what's coming and where! 
Don't forget the AFFTA match this coming Saturday 9/16! Boerne Field Target Club's September match on the Woods Course for all airguns under 20 FPE, gates open at 8 am.  BFTC also has FULL  days of 20 FPE airgunshooting starting back again in October! Day and night matches, Pistol and more! Yeehaw!
Join TFT today or join at the range! 
Thanks for reading and see you on the lanes!
May God bless Texas and all things airgun.
-SqrlHntr